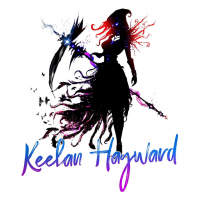 Keelan Hayward
Suspense, Supernatural Suspense, Action & Adventure, Romantic Suspense, Paranormal Romance, Dark Romance & Erotica, LGBT, Fantasy
Keelan Hayward is a writer and lover of all things fantasy and paranormal. From an early age, Keelan has always dreamed of escaping reality, and letting their mind wander into the worlds depicted in books and movies. Already an experienced writer, Keelan stumbled into the Reverse Harem genre in 2019, and has stuck with it since. Now it's their goal to write stories depicting epic adventures, worlds beyond the readers' wildest imaginations, and Antiheroes who rise to victory. 

When Keelan is not writing stories, they're often found at home listening to KPOP music, voice acting, or reading. They currently reside in Virginia with their family, which includes a spoiled black cat who thinks he owns the place.
Book: A garden carried in a pocket.
Arabian Proverb